At the end of April 2022, there appears to be a shift in the market. The data shows sold prices are still up in 2022, days on market are down and inventory is still low. That being said, my personal observations show a slightly different reality as we move into May. Listings are getting few showings and offers are coming slower. In the first quarter of 2022 most new listings would get multiple offers within the first couple days of being listed. Starting mid-April this has changed. What is the reason for this shift? Having discussed this with other local Realtors®, there are a few theories. Partially this can be attributed to the normal slow down during shoulder season (the slow time in Mammoth Lakes from May – June). Could the rising interest rates and concerns about the economy also play a role? Whatever the reason, it will be interesting to see how the second quarter unfolds.
This article highlights the numbers you need to know about the Mammoth Lakes real estate market, what it means if you are thinking about buying or selling, and where to get help moving toward your real estate goals this year.
What's Happening in the Mammoth Lakes Real Estate Market?
It is helpful to look at the current market in two different segments: single-family homes and condos/ townhomes. This data is through April 30, 2022.
Condos
The YTD median sales price for condos sold through April 2022 is $800,000 which is up 30% over 2021.
The median days on market YTD is 47 days which is down 5 days from 2021. This time period begins on the day the property is listed and ends when it closes escrow.
127 condos have closed escrow so far in 2022 (32 per month) as compared to 2021 where the average was 38 per month.
There are 33 active condos listed for sale as of May 1 as compared to 35 on April 1.
There are 51 pending sales on May 1 as compared to 52 last month.
Single-Family Homes
The YTD median sales price for single-family homes through April 2022 is $1,415,000 which is up approximately 23% over 2021.
The median days on market is 68 days which is down from 70 days in 2021. This time period begins on the day the property is listed and ends when it closes escrow.
33 single-family homes closed escrow through April 2022 (8 per month) which is down from 11 average monthly in 2021.
There are 19 active single-family homes listed for sale on May 1 which is up from 16 last month.
There are 10 pending sales on May 1 which is down from 11 last month.
What Does This Mean for Mammoth Lakes Area Homeowners and Sellers?
It is important to have realistic expectations when selling your property. Mammoth Lakes is a different market than Southern California. While there is still demand for properties and low inventory, pricing your property right is critical. Most buyers know that properties in Mammoth are selling over list price. By pricing your property too high, it will just sit on the market. Low inventory generally makes for a seller's market but this could change with increasing interest rates, changing lending policies on second/vacation homes and geopolitical events. If you are even remotely thinking about selling, contact our team to schedule a no obligation Property Playbook & Strategy session.
What Does This Mean for Mammoth Lakes Area Home Buyers?
Buyers in this market need 3 skills: patience, perseverance, and the ability to act quickly. Patience is needed since there are not many properties available and when they are listed, sellers do not always seem to have a sense of urgency to respond. Making offers on multiple properties and losing to a higher offer also requires perseverance. If you have lost on previous offers, stick with it. Other buyers are frustrated and have moved to the sidelines which means less competition for you. With such low inventory available in Mammoth Lakes, buyers need to be ready to act quickly when they find a property they are interested in – this often means being willing/able to make an offer without seeing the property in person first. Do you have your financials in order? Do you need a pre-approval letter? We can connect you with lenders who have a proven track record of success in our area. Many buyers do not know that not all lenders can lend in certain projects in Mammoth Lakes. We can help you increase your chances of securing the property of your dreams in this tough market so reach out to me for a free consultation to set you on the right path for achieving your goal of owning property in Mammoth Lakes.
Conclusion
Whether you are a seller or a buyer, there is no doubt you will benefit from teaming with an educated and experienced Realtor® to help you navigate this hot market. I have created guides to help with both the buying and selling process. You can access the guides on my website:
Ultimate Mammoth Lakes Sellers Guide
Ultimate Mammoth Lakes Buyers Guide
Notes:
All data are sourced from the Mammoth Lakes Board of Realtors. Data for Mammoth Lakes ONLY and not the surrounding areas.
*Median price = middle value. This is used as a good indicator when there is significant data as it minimizes the impact of unusually high or low values and provides a better perspective of the big picture.
**Total Available excludes properties under contract/pending which have not yet closed.
When the COVID-19 pandemic first hit, there were a lot of concerns about how it would impact the housing market—including whether it would spark a decrease in home values.
But, as it turns out, the opposite is true—and sellers are netting significantly more profit when they sell their home than anticipated.
According to a recent report from ATTOM Data Solutions, during Q2 of 2020, home sellers netted a median $75,491 when they sold their home—up from $65,620 from Q2 2019. Q2's profit represents a 36.3 percent return on investment compared to original purchase price—the highest ROI for sellers since the Great Recession.
On the local front in Mammoth Lakes, we are seeing  "ready to go" properties are selling quickly.  People want to be here now without having to do any work.  This is true across all price ranges – entry level to over $1M.  Many clients are telling me they can now work remotely and since the kids won't be going back to a traditional classroom, why not be here in gorgeous Mammoth instead of the big city?   Although the majority of the interest has been in Mammoth Lakes, this is starting to trickle over to the outlying areas as well.
All this translates to a hot market for sellers with properties that are in good condition.  The nicer the property the more interest and offers.
The Takeaway:

So, what does this mean for you? If you're thinking about selling, now is a great time to make a move, fetch top dollar for your home, and walk away from the sale with a healthy profit.
The global COVID-19 pandemic has affected life across the globe. Strict social distancing measures, school closures, and, in many locales, a ban on all non-essential businesses have turned people's lives upside down and thrust us into a surreal existence where we're spending nearly all of our time at home.
From a real estate perspective, it would be disingenuous to say that nothing has changed. Great agents are honest at all times, even (especially) when it's difficult.
That said, there's no indication that we're in (or headed toward) a housing crisis like the once-in-a-century 2008 collapse. And, by all accounts, the fundamentals of the housing market remain in place, despite the safety precautions enforced by health and government officials.
The following list may help you better understand what's changed and what hasn't in the world of real estate
What Has Changed:
1. Access to Showings
In many places, the process of showing a home has changed. Some states have put limits on the number of people allowed to gather in one place, which has impacted open houses. Additionally, sellers, buyers, and agents are taking more precautions to keep themselves safe, with more cleaning, access to protective gear, and enforced distancing measures becoming the norm. Digital-only showings are also growing in popularity, although they're still relatively new. The good news is I work with mostly out of town buyers so I have plenty of experience showing property in creative ways….including FaceTime and video.  It is pretty easy here since the majority of properties are vacant right now.  So, if there's a home you're interested in seeing, it's still possible to make it happen.
2. The Closing Process
Much of the work that needs to be done between going under contract to sell or buy a house and the closing can be done remotely and electronically. But there are many things that need to be done by many people throughout the process. From the mortgage, to the title work, to inspections and appraisals, getting to the closing table depends upon a lot of people doing their job. Social distancing and working entirely remotely has a certain learning curve while everyone involved figures out how to get their end of things done. So, the process may take at least a little longer, and change as everyone figures out the best way to handle things. The upshot to this is that it could create better, more efficient ways of doing things moving forward.
3. Some Mortgage Products
Perhaps the most impactful changes in the real estate industry are happening in the mortgage market. The conditions on certain products are being tightened, and some lenders are temporarily exiting the market altogether. Jumbo loans (a type of financing where the loan amount is higher than the conforming loan limits set by the Federal Housing Finance Agency) seem to be feeling the most impact, while conventional loans, which are considered less risky, have been less affected. If you have questions about getting pre-approved, you should contact a mortgage professional who can help you better understand your options.  I like working with lenders who have experience in our market, so reach out if you would like me to put you in touch.
What Hasn't Changed:
1. People's Dreams
Even when the whole world comes to a stop, our hearts and minds do not. We all have dreams, whether it's owning a ski in/ski out condo in Mammoth Lakes, a gorgeous custom home in Crowley Lake or a starter home in June Lake.  A pandemic doesn't change that, even though it can help put things in perspective and remind us of what matters most. But don't let the strange times we're in stop you from daydreaming and working toward those dreams. A pandemic is temporary; our hopes are not.
2. Housing Demand
There's been a well-documented housing shortage for years, and there's no indication that the fundamentals have yet changed. That said, every real estate market is unique, and what holds true on a macro-level may not hold true in your desired market. Regardless of the specific market and overall demand in that area, people always need homes, despite a pandemic.  People still want vacation/second homes.  So, if you want to sell, there's likely a buyer for your home. And if you want to buy, there's likely a seller who'd love to sell.   The time it takes to find or sell the property just might take a little longer right now.
3. My Desire to Help
Most agents eat, breathe, and sleep real estate, and aside from looking out for our loved ones and wishing for a healthy and safe resolution to this mess, that hasn't changed. I want to help you with your real estate needs because I am passionate about what I do, and it's likely that our newfound home-time has coincided with a lot more real estate research than it has with cleaning or learning how to play the guitar.
There are more than 100 Mammoth Lakes real estate agents. If you don't know one of us personally, how will you ever choose one?
My advice is to shop around. Many people contact the first real estate agent they come across and stick with them because it's easy. But it's always a good idea to interview several agents before choosing one. If you have referrals from people you trust, you might only need to interview two or three agents.
If you're new to real estate, or new to the Mammoth Lakes housing market, what should you ask in these real estate agent interviews? If you ask these questions, you'll be able to figure out the best agent in no time:
1. Can you send me some information about yourself?
You'll want to look for professionalism and consistency. What are their professional accomplishments? Try to discern how they approach their work — are they a committed business person, or are they just doing this on the side? A good real estate agent will have a strategy and a solid support system. If the agent is new to real estate, ask about their team's dynamic and accomplishments.
2. How long have you been in real estate?
Longevity is really valuable in the real estate industry, especially in Mammoth Lakes where the real estate market has some weird quirks. An agent who has lived in Mammoth Lakes for several years will also be better connected to other professionals in the area — home inspectors, lenders, the title company, etc. — so the process will move along more smoothly.
3. How will you keep me informed?
Do you want daily or weekly reports from your agent? Before you meet with agents, figure out how much communication you want, then find an agent who will give you the attention you want and deserve.
4. Can you provide me with other resources I may need?
Good real estate agents have a wealth of knowledge in their heads, but many of them also offer resources like market reports, pricing trends, rental histories, tourism statistics and more. Great Mammoth Lakes real estate agents will also have strong relationships with their extended team of professionals and can sometimes get faster service or cash in a favor for you if a need arises.
5. For sellers: Can you share your plan to market my property?
Many real estate agents will just put your home in the MLS and wait for it to sell. That's not how I work, and I bet it's not what you imagined when you decided to work with a real estate agent. A good agent will have a detailed plan of how to get your home the most exposure on social media and through their local networks.
BONUS: Are you a real estate agent, a realtor or a broker?
It might sound like they're all the same, but each designation is quite different. Any licensed real estate professional is a real estate agent, but to become a realtor, you have to subscribe to the REALTOR Code of Ethics. Brokers are real estate agents who have received further education and an advanced license from the state. You can work with any real estate professional, but the additional education and code of ethics can be really useful depending on your situation.
Make sure the real estate agent you choose feels like a good fit to you. This person will guide you through the process and can either make it a joyful transition or a total headache.
Learn more in my Ultimate Home Buyer's Guide or Ultimate Home Seller's Guide or contact me to start your search.
——–
If you liked this post, you might also like:
If you're considering selling your Mammoth Lakes home, you've probably gotten an earful of advice from anyone you've talked to. People often suggest expensive upgrades, costly renovations or pricey professional opinions, but this might not be the best use of your money.
You can sell your home quickly without doing a bunch of fancy fixer-upper projects. Here's what I suggest to increase your home's appeal to a wide variety of buyers without breaking the bank.
Improve the curb appeal.
It's just as important to stage the outside of your Mammoth Lakes condo or house as the inside. If you're selling a house, make sure the snow removal is well-managed in the winter and the landscaping well cared for in the summer. Consider pressure washing or even painting the exterior to make the best first impression. Clean all windows, doors and decks. If you're selling a condo, freshen up the entry by cleaning the front door, putting out a new welcome mat and making sure the area leading up to the condo is free of clutter.
Lighten up the place.
Open all the windows, replace any burnt-out light bulbs, and consider adding outdoor lighting if you have a deck or patio. Sunlight pouring in makes a home feel airy, and interior lights give it a cozy glow. Keep your home lit until you go to bed in case potential buyers are driving or walking by. It'll look cheery instead of dark, gloomy and vacant.
Store any unnecessary furniture and personal objects.
Less is more when it comes to showing your home — less to distract buyers and less for you to keep clean. Move any overly crowded furniture, and pick up any knickknacks, stacks of books, and kids artwork. Store it all while showing your house. Avoid stuffing things in closets since these will be shown to potential buyers too.
Give the inside a fresh coat of paint.
A new coat of paint freshens up any room, but stick to neutrals like warm grays and tans. Before choosing a color, make sure it looks good with the existing lighting in your home. If you painted any rooms in bright colors, consider repainting them with neutral colors. You don't want buyers to get diverted from seeing the potential of your home by focusing on things they immediately want to change.
For more tips on selling your home, check out my Ultimate Home Seller's Guide, or give me a call at (760) 914-4664.
——-
If you liked this post, you might also like:
Whether you're putting your home on the market this year or several years from now, you should start thinking about resale value now. Here are a few easy tips that can put more money in your bank account on closing day.
Do Regular Maintenance and Repairs
Staying on top of small chores and house repairs will make a big difference. See our suggestions for seasonal home maintenance to make a plan for the year ahead. Regular maintenance can actually boost your home's value by one percent per year. An added bonus to regular maintenance is that if you decide you need to sell sooner, you'll be in a better position to do so.
Don't Ignore Landscaping and Snow Removal
Owning a home in Mammoth Lakes is a bit different than in other places. With at least six months of winter each year, your landscaping plan has to be very thoughtful. Any landscaping you do should be done with snow removal in mind — don't make it more difficult on yourself or your snow removal service to get the snow out of your driveway quickly. And with a short summer season, prioritizing hardy high alpine plants is key. Curb appeal is huge in selling a home, so make sure your year-round outdoor appearance is in good shape.
Replace Entry Doors
Many front doors in Mammoth Lakes homes are wood. This can definitely contribute to the cozy cabin feel, but switching them out for steel or fiberglass doors can add both security and insulation. Fiberglass doors can even be designed to look like wood doors. Fiberglass doors will give you the best insulation, but either one is a good upgrade. Regardless of material, a modern door will do a better job insulating your home than one from a decade or two ago.
Replace Your Garage Door
A private garage is a major selling point for a Mammoth Lakes home. If you have shared underground parking, your HOA will likely take care of any garage door improvements. But if you own a home, you can up your resale value by replacing the garage door. Bold colors that complement your home, faux wood fiberglass or steel, and large windows can all improve the curb appeal of your garage door and home overall and can boost resale value.
Insulate Your Attic
If you live in a house in Mammoth Lakes, you know how important good insulation is. While it's not the sexiest selling point of a home, installing fiberglass attic insulation can save energy and garner a big payback on your investment.
Replace Double Pane Windows
Many Mammoth Lakes homes were built in the 1960s and 1970s. While some homes have had major upgrades that include replacing windows and sliding glass doors, many haven't. If your home doesn't have modern double pane windows, add this to your list. In addition to helping with resale value, modern double pane windows may reduce your utility bill by 7 to 15 percent.
Remodel Parts of Your Kitchen
A full kitchen remodel may be prohibitively expensive, but small renovations can make your home more buyer-friendly. Changing your kitchen's texture and color using a matte finish and neutral colors will enhance resale value. Refinishing cabinets and switching to Energy Star appliances will also help with resale.
Remodel Your Bathroom
Like with the kitchen, don't dive into a full renovation without thinking it through fully, but consider small updates. Replacing shower and floor tiles, switching out your sink or toilet, or replacing shower fixtures are all fairly cheap upgrades that help a lot with resale. Steer clear of current trends — choose a timeless look so you won't have to renovate again if you don't sell for several years.
Connect Your Needs to Future Buyers' Wants
You may have noticed a trend in these tips — they all make your home more pleasant for you to live or vacation in as well. Think through home projects both for how they'll affect your enjoyment of the home and how appealing they'll be to future buyers. You'll likely find that what makes a home more enjoyable to you will make future buyers happy too.
Learn more in my Ultimate Home Seller's Guide. If you'd like to talk, call me at (760) 914-4664.
You know you want to buy a new home or sell your current one. That should be enough to get you started, right? The lingo used by many realtors* can make the whole process sound a lot more complicated than that.
Learning a few key terms will put you a step ahead of all the other buyers and sellers out there. Here are a few of the most commonly misunderstood real estate terms:
1. Good-Faith Estimate
A Good-Faith Estimate is given by the escrow officer during the sales process to predict how much money will be due when you close on the property. The exact amount can vary — hence the word "estimate" — so buyers should always save a little extra money to make sure they're prepared for the final closing costs.
2. Pre-Approval
People often think getting pre-approved for a loan is like having money in hand. While it does open the door for you to shop, it's not a guarantee, and things can always change during the buying process. The loan is not yours until you close. Buyers should be conservative with their credit and their time… don't go out and buy a car before you close the deal.
3. The Comp
For sellers, the word "comp" can cause a lot of confusion. A comp is a comparable property. It's likely around the same size and in a similar area or complex. It's helpful when it comes to pricing your property to sell. Although you can go online to various websites and find comps, most are not in real time or super accurate. For a more holistic look at the market, real estate agents will do a CMA (Comparative Market Analysis). As a realtor, I combine my knowledge of the local market with a variety of factors of comparable properties to give you a CMA.
4. MLS
The Multiple Listing Service (MLS) was developed by realtors in the early 1900s to make the transaction process more efficient. It's a real time collection of regional databases of homes currently for sale. Sellers' agents post properties that are for sale, while buyers' agents share links to these properties with their clients. Having all the listings in one place is a win-win for buyers, sellers and realtors.
5. Agent/Realtor®/Broker
They sound the same, and you've heard of each one… they do the same thing, right? Not so fast. A real estate agent is licensed to help people buy or sell properties. They take classes and must pass an exam in the state they work in. A Realtor® is a trademarked term for a real estate agent who belongs to the National Association of Realtors and follows its strict Code of Ethics. A broker is generally required to have more education and experience than real estate salespeople or agents. A broker can deal directly with home buyers and sellers, or they might have staff or agents working for them. I'm a broker and a realtor.
Most people hire a realtor without understanding what the job entails… It's much more than just showing properties. Ask for testimonials from previous clients to see which real estate agent, realtor or broker is a good fit for you.
Learn more in my Ultimate Home Buyer's Guide or Ultimate Home Seller's Guide. If you'd like to talk, call me at (760) 914-4664.
If you're considering selling your property, you've probably heard all sorts of things from your friends, family and co-workers. Some may be true. Others are definitely not.
Before you get too worried, take note of these common real estate myths.
Myth #1: You need to spend money to make money.
We've all seen it, and many of us have done it. We want to get the best price for our property, so we start doing all the things we always dreamed of doing… renovating the kitchen, updating the bathroom, etc. Some improvements can make your property more attractive and may boost the asking price a bit, but that doesn't mean you'll make back the money you've spent. Plus major renovations almost always cost more than expected, so stick to small improvements like a fresh coat of paint or some new fixtures. Leave the major renovations — and the potential headache — to the new owners.
Myth #2: You need to wait for the right season to sell your property.
Photo by Josh Wray for Visit Mammoth
You've probably heard that it's easier or you'll make more money if you sell your Mammoth Lakes home in a certain season. I've been helping buyers and sellers in Mammoth Lakes since 2011, and I've seen that there is no "selling season." We're a year-round resort that draws buyers in all the seasons. Don't wait around — get your property on the market as soon as you want to sell it.
Myth #3: Pass on the first offer and wait for something better.
When your first offer comes in, especially if it's below the asking price, many sellers pass in hopes of getting a better offer later. If your property stays on the market for a month or two, buyers will be wary, especially since properties move so fast in Mammoth Lakes. Take every offer seriously, and don't assume a better offer will come the longer you wait.
Myth #4: You can move your home with an open house.
An open house sounds like a dream solution, right? Buyers will flood in the door eager to see and then buy your property. Unfortunately that's not the reality I usually see. Open houses attract window shoppers who may already own a similar property or be dreaming of a someday-purchase. With one-on-one sales, your real estate agent can weed out anyone without a pre-approval letter. Don't waste your time trying to sell to someone who can't get a mortgage. One-on-one sales also give more time for the agent to share what's great about your property with the potential buyer.
Learn more in my Ultimate Home Seller's Guide. If you'd like to talk, call me at (760) 914-4664.
According to the National Association of Realtors, staging a home prior to listing it can result in a faster and more profitable sale.1 In fact, the Real Estate Staging Association estimates that professionally staged properties spend 73 percent less time on the market, receive more foot traffic, and typically sell for more money.2
Source: National Association of Realtors
Following are 10 tips you can use to get your home "show ready" prior to hitting the market. These easy and cost-effective ideas will help your house look its best—and help buyers visualize themselves living there. Even if you're not currently in the market to sell, you can use these tactics to breathe new life into your existing home decor.
To get a plan customized for your particular property, give us a call to schedule a free consultation. We'd be happy to share our insider knowledge of the buyer preferences in your neighborhood … so you'll know where to focus your time, money and energy to maximize your results.
1. REMOVE CLUTTER
Decluttering is typically the first thing we tell clients to do to prepare their home for sale. And according to the National Association of Realtors, a whopping 93 percent of agents agree.1 Decluttering is the act of removing excess "stuff" from your home to make it appear clean and spacious.
Overflowing closets and cluttered countertops can make your house feel small and cramped. In contrast, sparsely-filled closets and clear countertops will make your home appear larger and assure buyers that there will be plenty of room to store their belongings.
Don't neglect drawers, cupboards and even your refrigerator in your decluttering efforts. Serious buyers will check out every nook and cranny of your home, so pack up anything you don't use on a daily basis and store it off site. The same goes for jewelry, sensitive documents, prescription medication, firearms and other items of value. Store them in a locked safe or storage unit before opening your property to buyers.
Make sure any items that remain are clean, tidy and well organized. The good news is, when it comes time to move, a large portion of your packing will be done!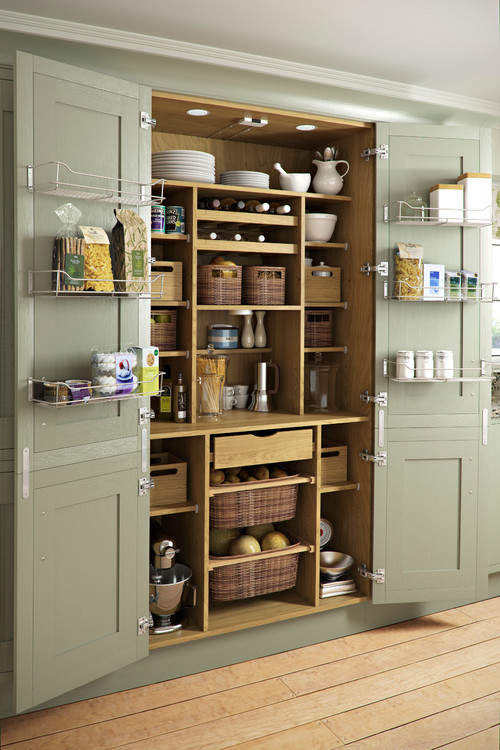 Photo by Holme Design – Look for kitchen pictures
2. DEEP CLEAN AND DEODORIZE
From carpets to bathrooms to appliances, having a clean home is a MUST. If you've ever checked into a dirty hotel room, you can imagine how buyers can be turned off by a home that hasn't been thoroughly cleaned.
If you have a large home, or are short on time, you may want to invest in a professional cleaning service. And if you have carpet, we generally recommend you rent a steam cleaner or hire a company to clean your carpets for you.
In addition to cleaning, it's equally important to neutralize odors in your home that can be off-putting to buyers, especially pet smells and cigarette smoke. If the weather allows, open your windows and let in fresh air. Empty the trash frequently, and especially before a showing. Avoid cooking any strong-smelling food such as fish or heavy spices. You may need to clean (or remove) drapes and upholstery if odors are particularly strong.
Try to keep your home in clean, show-ready condition while it's on the market. You never know when a potential buyer will want to drop by for a viewing.
3. DEPERSONALIZE
Your family photos and personal mementos are often your most treasured possessions. For many of us, they are what make a house a home. However, buyers will have a hard time envisioning themselves living in a place if it feels like YOUR home.
Pack up any items that are personal to you and your family, such as photos, books, children's artwork, travel souvenirs and religious items. Collectibles and excessive knickknacks can be distracting to buyers. Instead, keep your decor items minimal and generic to appeal to the largest number of buyers.
4. NEUTRALIZE YOUR COLOR PALETTE
Along those same lines, bold color choices may not appeal to all buyers. By incorporating a neutral color palette throughout your home, buyers can better visualize the addition of their own furniture and decor, which may contrast with your current color scheme.
But don't limit yourself to white and beige. Incorporating earth tones and midtone neutrals—like mocha and "greige" (grey-beige)—can add a touch of modern sophistication to your decor.3
Photo by Ellen Grasso & Sons, LLC – Browse family room photos
One of the quickest and most cost-effective ways to neutralize your home's decor is with paint. Walls painted in dark, bold or bright colors can turn off buyers. A fresh coat of paint in a neutral color like greige (try Benjamin Moore's Revere Pewter) or warm white (such as Kelly-Moore's Rotunda White) offers a clean palette upon which buyers can visualize adding their own personal touches.4
If your sofa is worn, stained or has a bold pattern, consider purchasing a neutral-colored slipcover. Dated or overly busy window coverings should be taken down or replaced. Instead, bring in tasteful pops of color with throw pillows and accessories.
5. INCREASE YOUR CURB APPEAL
You only get one chance to make a first impression. According to a 2017 report by the National Association of Realtors, 44 percent of home buyers drove by a property after viewing it online but did NOT go inside for a walkthrough.5 That means if your curb appeal is lacking, buyers may never make it through the door.
Walk around your home and look for any neglected areas that might seem like "red flags" to buyers, such as missing roof shingles or rotted siding. Trim trees and shrubs if needed, and make sure your lawn and flower beds are well maintained. Add some colorful flowers to your front beds and/or flower boxes to brighten up your landscaping.
Make sure the exterior of your home is as clean as the interior. This can often be accomplished with a simple garden hose. But if your siding, walkway, or driveway are stained or dingy, you may want to rent a pressure washer.
Thoroughly wash windows and screens, and remove and store dark solar screens if you have them. Open shutters, curtains and blinds, which will not only make your house look more inviting from the outside, it will brighten the inside.
Consider a fresh coat of paint on your front door, trim and shutters. And small, cosmetic improvements like new house numbers, a colorful wreath and a clean front doormat can have a big impact.
6. FRESHEN KITCHENS AND BATHS
Kitchens and bathrooms will show better and appear larger if all items are cleared from the countertops, except for one or two decorative pieces.7 You should have already packed up non-essentials during your decluttering process, and the remaining items should be neatly stored in pantries and cupboards.
If your cabinets are dingy or outdated, adding a fresh coat of paint and new hardware is an easy and inexpensive way to make them modern and bright. Consider purchasing new shower curtains, bath mats and towels for the bathrooms and new dish towels for the kitchen.
Before each showing, make sure kitchens and baths are spotless and trash cans are empty and out of sight. To add a comforting aroma, try baking cookies, or in the fall, simmer some cinnamon sticks and cloves in a pot of water before you leave the house. In the spring, try a vase of fresh cut lilacs.7
7. SET THE TABLE
Buyers often imagine hosting family gatherings in their new home, and the dining room plays a large role in that vision. If your dining room chairs are stained or outdated, you may want to recover them or use slipcovers. In most cases, an imperfect table can be camouflaged with a neutral and stylish tablecloth.
Be sure the table is centered underneath the chandelier and on the area rug if you're using one. If your dining room is small, remove all other furniture and leave only four chairs.8
Dress up the table using nice tableware and cloth napkins or a table runner and centerpiece. For a long table, try lining up a series of small vessels down the middle.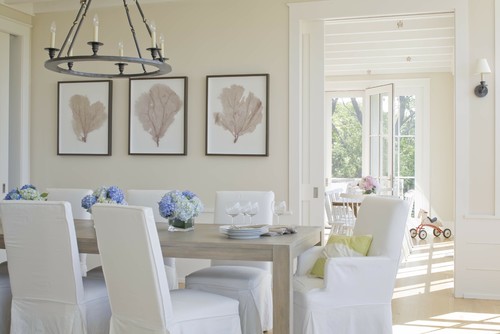 Photo by Kate Jackson Design – Search dining room pictures
8. REARRANGE FURNITURE
Start in your living room and think about what you want to emphasize (and de-emphasize) about the space. For example, do you have a beautiful fireplace or a stunning view? If so, arrange the furniture with that focal point in mind. Use a symmetrical seating arrangement to create a cozy conversation area adjacent to the focal point.
If the room is small, consider removing some of the furniture to make it feel larger, especially oversized pieces. That includes oversized television sets, unless it's a designated media room. Pulling furniture away from the wall can make the room feel more spacious, and placing your largest furniture piece in the far-left corner (as opposed to near the entry) can create the illusion of a larger space.9
For small bedrooms, remove all the furniture except the bed, bedside tables and a dresser. If it's a large room, add one or two chairs and a table to create a seating area. Place lamps on the bedside tables and seating area if you have one.10
Make sure each space in your home has a clearly defined purpose. For example, if you've been using an extra bedroom as a catch-all storage space, stage it as a guest room or office instead. Turn an awkward alcove into a workstation or a reading corner. Help buyers imagine how they could use the space themselves.3
9. LIGHTEN UP
Lighting can have a drastic impact on the look and feel of a home. Few buyers seek out a dark house; most prefer one that's light and bright. Make sure windows are clean, and open curtains and blinds to let in the maximum amount of daylight.
Each room should have three types of lighting: ambient (general or overhead), task (such as a reading lamp or under-cabinet light), and accent (such as a floor or table lamp). Aim for a goal of 100 total watts per 50 square feet.11 If your mounted light fixtures are dated, replacing them with something more modern is an easy and inexpensive upgrade that can have a big impact.
Strategically placed landscape lighting can add a dramatic effect to your home's exterior. Welcome evening visitors with a lighted walkway, or use a spotlight to accentuate trees or other landscaping features. Solar lights require no wiring; simply place them in a sunny spot and they will turn on automatically at dusk.
10. HIGHLIGHT YOUR BACKYARD'S BEST FEATURES
While your home's interior often takes center stage, don't forget about staging your home's outdoor areas to help buyers imagine how they could utilize the space.
Even a small patio can become a selling feature with the addition of a cafe table and chairs. Add a tray of plates and coffee cups to help buyers envision a peaceful breakfast on the back porch. Place chairs and wine glasses around an outdoor firepit or hang a hammock with a book in your favorite shady spot.3 These small, simple additions can help buyers visualize the possibilities your backyard has to offer.
BEFORE YOU GET STARTED
If you're in the market to sell your home, this list provides a great starting point for your preparations. But nothing beats the trained eye and expertise of a real estate agent. Before you do any work, we recommend consulting a professional for advice about your particular property.
We offer free, no-commitment seller consultations and will walk through your home with you to help you assess which projects and upgrades are worth your time and money, and which ones you can skip.
As local market experts, we are intimately familiar with buyer preferences in your area. We'll run a comparative market analysis to find out how your home compares to others currently on the market, as well as those that have recently sold. Then we'll tailor a custom plan to suit your particular property, budget and needs.
Please call or email Sonja today at 661-979-9000 or [email protected] with questions or to schedule a free consultation!
Sources:
2018 ACTION PLAN
If you plan to BUY this year:
Get pre-approved for a mortgage. If you plan to finance part of your home purchase, getting pre-approved for a mortgage will give you a jump-start on the paperwork and provide an advantage over other buyers in a competitive market. The added bonus: you will find out how much you can afford to borrow and budget accordingly.
Create your wish list. How many bedrooms and bathrooms do you need? How far are you willing to commute to work? What's most important to you in a home? We can set up a customized search that meets your criteria to help you find the perfect home for you.
Come to our office. The buying process can be tricky. We'd love to guide you through it. We can help you find a home that fits your needs and budget, all at no cost to you. Give us a call to schedule an appointment today!
If you plan to SELL this year:
Call us for a FREE Comparative Market Analysis. A CMA not only gives you the current market value of your home, it'll also show how your home compares to others in the area. This will help us determine which repairs and upgrades may be required to get top dollar for your property … and it will help us price your home correctly once you're ready to list.
Prep your home for the market. Most buyers want a home they can move into right away, without having to make extensive repairs and upgrades. We can help you determine which ones are worth the time and expense to deliver maximum results.
Start decluttering. Help your buyers see themselves in your home by packing up personal items and things you don't use regularly and storing them in an attic or storage locker. This will make your home appear larger, make it easier to stage … and get you one step closer to moving when the time comes!
WE'RE HERE TO HELP
While national real estate numbers and predictions can provide a "big-picture" outlook for the year, real estate is local. And as local market experts, we can guide you through the ins and outs of our market, and the local issues that are likely to drive home values in your particular neighborhood. If you have specific questions, or would like more information about where we see real estate headed in our area, please give Sonja a call at (661) 979-9000. She would love to discuss how issues here at home are likely to impact your desire to buy or a sell a home this year.